International cooperations
PassREg - Supporting the growth of Passive House regions towards an EU energy revolution
PassREg aims to trigger the successful implementation of Nearly Zero Energy Buildings (NZEBs) throughout the EU, using Passive House supplied as much as possible by renewable energies as the foundation.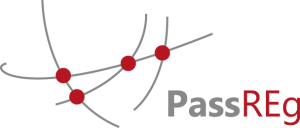 The following Passipedia articles have been written within the framework of the PassREg project:
Financing and cost effectiveness of Passive House buildings: experience from Brussels and focus on social housing
Passive House Regions: A Guide to Success
Passive House for municipalities
Component guidelines for cost-optimal Passive Houses and EnerPHit retrofits (clickable map)
Lessons from the New Passive House Regions
Economic feasibility of Passive House design

Thermal protection and modernisation of existing buildings
Passive House windows tender specifications
Monitoring in the Passive House district of Bahnstadt, Heidelberg
Life cycle cost analysis of energy interventions in 18 reference buildings
PassREg Brochure: Defining the Nearly Zero Energy Building
EuroPHit - Retrofitting for the energy revolution, one step at a time
With the EnerPHit Standard as the goal and Passive House principles as the basis, EuroPHit applies knowledge on deep energy retrofits to the oft-overlooked yet critical area of step-by-step refurbishments. EuroPHit aims to significantly increase the quality and energy efficiency of perhaps the most common type of refurbishment: retrofits conducted gradually, over a period of years.

The following Passipedia articles have been written within the framework of the EuroPHit project:
Example of incentive programmes for retrofits: the KfW in Germany
Economy and financing of efficiency: new buildings, renovation and step by step retrofit
Measurements for checking consumption – "Minimal Monitoring"
Step-by-step retrofit: Airtightness concept
Internal heat gains in relation to living area
Building Integrated Photovoltaics (BIPV) in Step by Step Retrofitting Projects
Practical implementations of step by-step-retrofit to EnerPHit standard
Floor Replacement: Svartbäcksvägen
Economic analysis for the retrofit of a detached single family house to the EnerPHit standard
The EnerPHit Standard applied to large, complex existing buildings
A road towards deep building renovation on a step-by-step basis in Bulgaria
Component Award 2016: Affordable ventilation solutions for retrofits
Windows in a step-by-step retrofit
Overall retrofit plan for step-by-step retrofits to EnerPHit Standard
Step-by-step deep retrofit and building integrated façade/roof on a 'million program' house
Step-by-step Retrofits towards EnerPHit Standard in social housing in Spain

EuroPHit Brochure: Implementing deep energy step-by-step retrofits
3EnCult - Efficient energy for EU cultural heritage
The project 3EnCult bridges the gap between conservation of historic buildings and climate protection, which is not an antagonism at all: historic buildings will only survive if maintained as living space. Energy efficient retrofit is useful for structural protection as well as for comfort reasons - comfort for users and "comfort" for heritage collections. 3EnCult will demonstrate the feasibility of "Factor 4" to "Factor 10" reduction in energy demand, depending on the case and the heritage value.

The following Passipedia articles have been written within the framework of the 3EnCult project:
Airtightness of OSB boards

Integrating wood beams into the airtight layer
Energy refurbishment of heritage buildings with PHPP's and real measurements' feedback

The sole responsibility for the content of Passipedia lies with the authors.
While certain marked articles have been created with the support of the EU, they do not necessarily reflect the opinion of the European Union;
Neither the EACI nor the European Commission are responsible for any use that may be made of the information contained therein.
eu_projects_publications.txt · Last modified: 2023/06/12 15:37 by yaling.hsiao@passiv.de
---