planning:thermal_protection
Table of Contents
Building envelope
The building envelope consists of all components that separate the interior from the exterior. The interior of the building allows prevailing comfortable climate, whereas the outside is determined by the weather. In order to maintain comfortable indoor conditions in low-energy buildings, the entire building envelope needs to be perfectly insulated and prevented from air leakages.
Passive House Component Database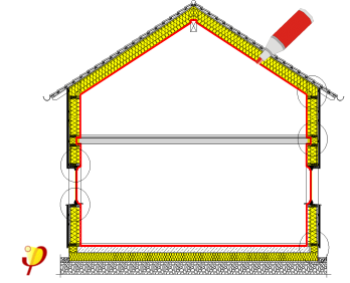 The Passive House envelope
The most important principle for energy efficient construction is a continuous insulating envelope all around the building (yellow thick line), which minimises heat losses like a warm coat. In addition to the insulating envelope there should also be an airtight layer (red line) as most insulation materials are not airtight.
Independently of the construction, materials or building technology, one rule is always applicable: both insulation and airtight layers need to be continuous.
Preventing thermal bridges (circles) is essential
here an individual planning method has to be developed, according to the construction and used materials, in order to achieve thermal bridge free design.

Generalities about the thermal envelope
Thermal insulation
Thermal bridges
Airtightness
Windows and doors
Passive House components
Modernisation of existing buildings
Multimedia
See also
planning/thermal_protection.txt · Last modified: 2023/08/10 12:00 by yaling.hsiao@passiv.de
---